Water.
Hazards.
Energy.
Resources.
Environment.
About the Contest
The WHERE Challenge is a national contest endorsed by the Canadian Earth sciences community that asks students aged 9 to 14 "What on Earth is in your stuff?" and "WHERE on Earth does it come from?" WHERE stands for the fields in which geoscientists work: Water, Hazards, Energy, Resources, and Environment.
Launched in September of each year, the WHERE Challenge runs until the following March, offering up to $5,000 in prizes.
This contest presents Earth sciences material to students in a way they can relate to and is designed to excite them about learning, while promoting awareness and appreciation of our planet and of employment opportunities in the mining, energy, and environmental sectors.
The WHERE Challenge allows for cross-curricular collaboration and thematic teaching; art, English, social studies, technology, and science departments can all get involved.
Testimonials
"I encourage other teachers to participate in the Where Challenge. It is such a great learning opportunity for all involved with the schools — that is students, teachers and parents as well. We all got more aware of what is around us, where it came from and what it is made of. Many of us had no idea of the processes involved in making things we use every day, from ore to metal to specific objects. We not only learned about non-renewable resources, but we also touched on international trade, careers in geoscience, prospecting and the mining industry and fabrication. We also talked about the environment and the three Rs.
I believe my students' ideas about the world we live in changed as a result of participating in this contest. Even if we hadn't won a prize, we still would have won, coming out of the adventure with a better understanding of the world, the marvels of industry and the challenges up ahead."
It was also a lot of fun to create the video all together, to show it to people and to explain what we learned. I know my students will want to take part in this contest again, whether as a group or individually. We all agree, it was a great and rewarding opportunity!"
Suzanne Wernli-Roy, John Field Elementary School, Hazelton, B.C.
"I had my science students participate in the WHERE Challenge and was really impressed with the professionalism of the contest and with the quality of work my students produced. I found it to be a unique and exciting opportunity that allowed students to really contemplate how Earth's resources are used and how we often take the process for granted. Students were excited that there were a multitude of presentation formats permitted (Story, Poster, Movie, etc…) and that there were cash prizes available.
The quality of work produced by my students was exemplary and I plan on doing the WHERE Challenge again next year."
Kurt Smith, Vincent Massey Junior High School, Calgary Alberta
"It was relatively easy to integrate the WHERE Challenge into the curriculum at the grade 7 level. The kids were highly motivated largely because they got to choose what they wanted to investigate and how they would present what they had learned. You know a project is a success if at the grade 7 level students are willing to do work on it at home and really want to, rather than it being assigned as homework. I think the project met its goals in that the students learned about non-renewable resources and where they are found in the world as well as they have a better appreciation for career paths in geology, environmental science etc. We would definitely consider entering next year. I would suggest that individual prize money is less of an interest or motivator than getting prize money for the whole school."
Crystal Pearl-Hodgins, École Whitehorse Elementary, Whitehorse, Yukon
"Our students benefited greatly from the WHERE Challenge. The idea of integrating their learning into a video with an external competition increased the students' motivation. The use of technology as a medium to demonstrate learning and allowing for creativity really tapped into something special for my students. Now that we have had a great experience participating in the WHERE Challenge I will be able to incorporate this competition into my entire class as it ties in nicely with the grade 7 science unit, 'The Earth's Crust'. This year I used the WHERE Challenge as an enrichment opportunity for my gifted students, but would include more next year."
Amanda Tetrault, River Heights Middle School, Winnipeg, Manitoba
"I decided to incorporate the WHERE Challenge into my grade 8 science class. It was something that I wanted the whole class to participate in and so suggested making a magazine. The students thought that would be fun and following a discussion of all the objects we use in our lives, we broke the items into categories and each class chose a different category. I had one class study food (and its packaging), another did toys and the other did sporting equipment. Students then picked items from within these broad categories and were grouped together based on interest. Therefore in each class we had between 10 and 13 groups investigating different products. When the research portion was complete, students were given different tasks in their Language Arts class in order to produce the magazine.
I think there were many amazing facets to this project that I have not experienced with other projects I have done with students. First, in the research process, students were looking for information that was, in some cases, very hard to find. They would come and ask me and I would honestly tell them that I had no idea what a product was made from. This made students discover different ways of researching and solving their problems. Often teachers know the answers to questions, or students assume that the teacher knows the answer but that the teacher is just withholding information. In this case, they knew that they were the only people in the room who knew certain facts and they were very proud of this. Additionally, many students ended up phoning manufacturers to get help and came across difficulty in communicating and getting information. They quickly learned the meaning of 'proprietary information'! Students discovered that they needed to formulate good questions that were specific and clear so that people would help them and give them information. In some classes students discovered that certain individuals in the class were very good at talking to people on the phone and getting the information they wanted. In this unique process, students learned about what their products are made of, where they come from and how the earth is integral to our lives.
The project was a huge success; students were consistently engaged, they were proud of being able to find information online, they felt very mature talking to individuals on the phone and they worked past many different kinds of frustration. In the end, each class worked in small groups gathering information and as a whole class to produce the magazine. This incorporated the understanding of our world, science and LA in a cross-curricular framework in which every student was a contributor. I will definitely have my classes work on this project again next year."
Alison Stuart, Vincent Massey Junior High School, Calgary, Alberta
"As an educator, I thought the 'WHERE Challenge' fit nicely with our school's Inquiry focus on 'Connecting with Expertise' and 'Critical Thinking' Asking students to complete work that professionals tackle in the work world, makes this project authentic and engaging. To complete their research, students needed to go beyond the internet and textbooks, and connect with the manufacturers of their project topics. Students and teachers are always looking for relevant connections to the 'real world' for the work they complete in the classroom and this project met those needs. Other skills students needed for this project included problem solving, time management, creativity, editing, and perseverance."
Jeff Krar and Amy Park (Grade 8 Teachers at the Calgary Science School)
My students thoroughly enjoyed the challenge of researching different countries and the sources that come from the Earth. They were allowed to let their creative juices flow by making a rap or a video. They love using technology (multimedia resources) to enhance their projects either through a power point or editing their video. Our program (ScienceTrek) usually does a science fair project however the WHERE Challenge allows them to do a science project using different media that they are engaged in and take ownership in. We will definitely do this project again next year."
Susana Chan, ScienceTrek Program, Montgomery School, Saskatoon, Saskatchewan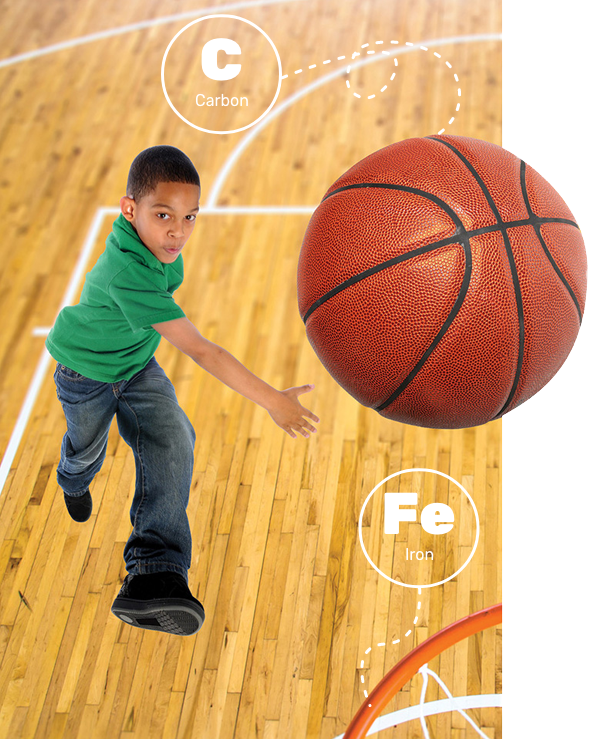 How does it work?
Pick a favourite object in your home, school or playground, identifying one or more non-renewable Earth resource(s)* needed to make that object and tell us WHERE on Earth those resources come from. You may be surprised by how many are found in Canada. You can enter as a group, an individual or a school. Your stories can be told through an essay, a poem, a song or a play, a painting or a poster, an audio, video or multimedia presentation or anything else you can dream up. All you have to do is use your imagination and dig up some interesting facts about your stuff. The more original, the better.
All winners will be announced by June 14, 2024. Winning entries may be used as promotional tools to demonstrate how non-renewable Earth resources are essential to our everyday lives.